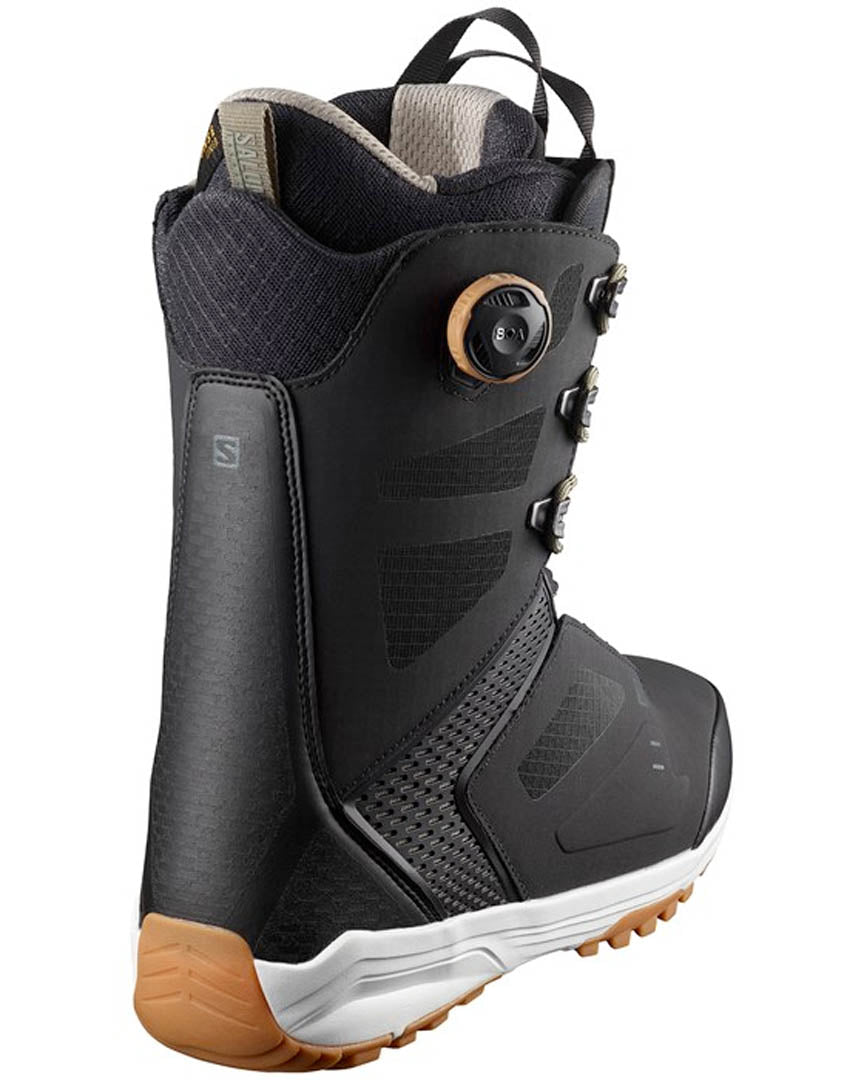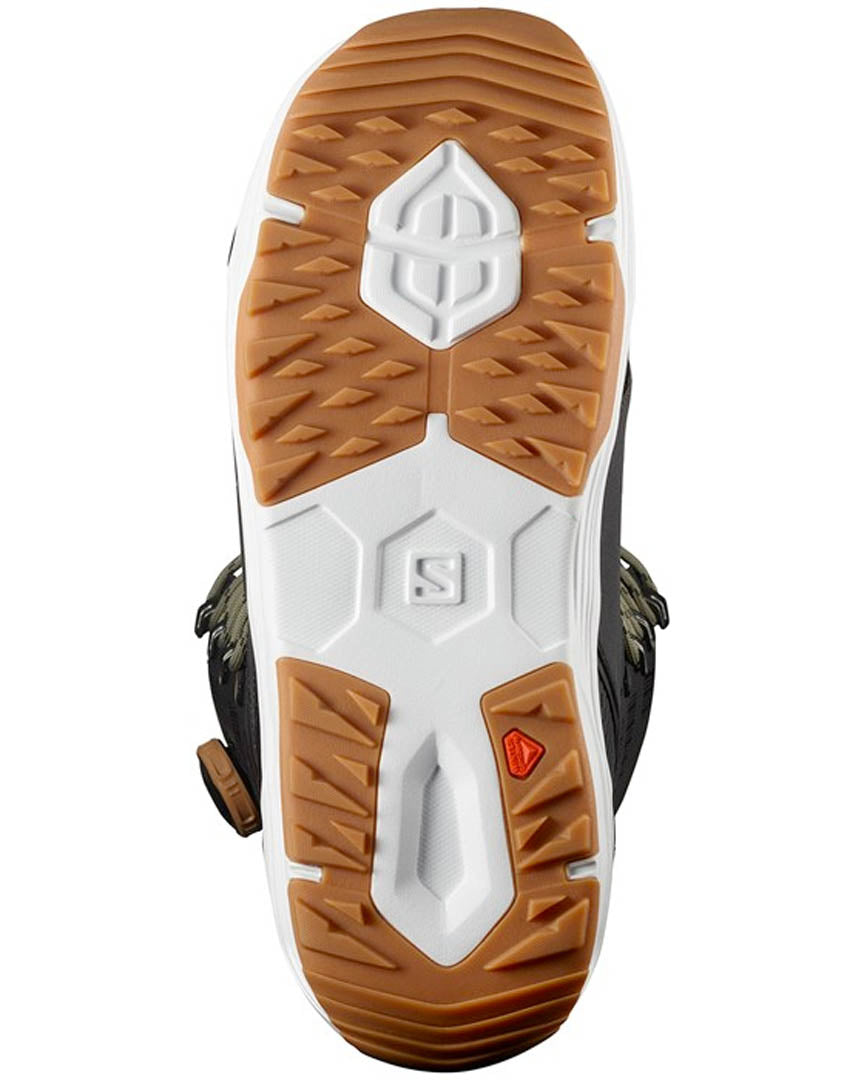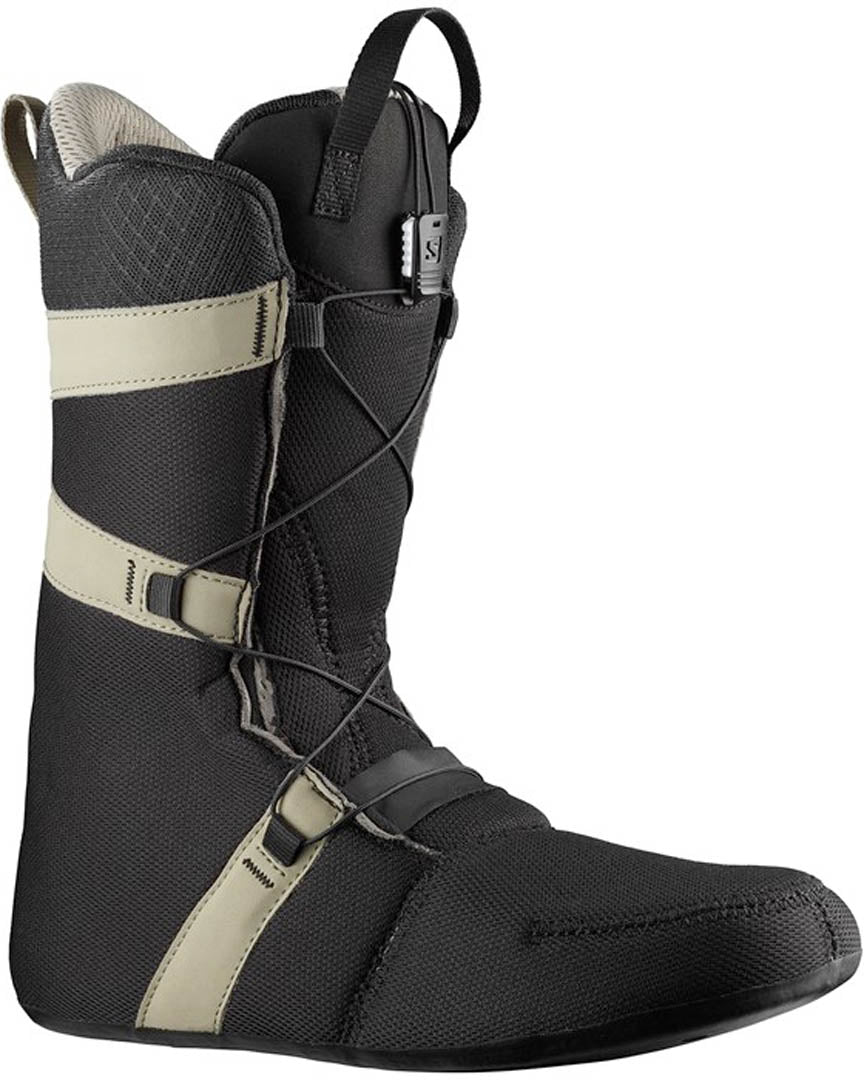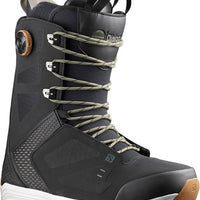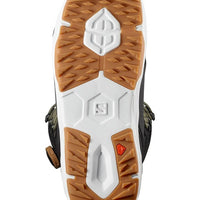 DIALOGUE LACE SJ BOA- BLK/BLK/V
Sale

• Save
Men Snowboard Boots
THE DIALOGUE LACE SJ BOA This is the Dialogue Lace Sj Boa Snowboard Boots by Salomon. Color is Blk/Blk/V.


The Dialogue Lace STR8JKT BOA® provides a progressive flex designed for freestyle performance. BOA® Fit System activated STR8JKT harness eliminates heel lift and adds support. Built with Fit To Ride Construction on our Damplite+ outsole, this boot ensures a lightweight, comfortable and durable design providing superior grip and dampening underfoot.
Liner custom fitting
Full custom fit
Features
Heat moldable multidensity foams throughout the entire liner.
Fully heat-moldable liners featuring Ultralon Performance foams that offer support and comfort where you need it most. Response liners also feature our new perforated Quickdry Insole to keep your toes dry. 
A dual density insole that molds to your foot for all day comfort.
A Salomon exclusive feature that speeds up the drying process to keep your toes dry and comfortable.
The perfect mix of grippy rubber and an ultra dampening EVA blend.
A Dialogue exclusive feature that is built in to ensure a progressive and durable flex.
Traditional laces to tighten your boots.
This version of our inner heel harness works like a 3 point seat belt for your heels and is activated by the Boa® fit system.
Details 
Weight sample size: 1.08

Weight sample size: KG unit of measure

Flex: Medium

Lacing System: BOA®, Str8jkt, Traditional

Width: Regular
MEN'S SNOWBOARD BOOTS
Calculate your own measurements, then select your product size
Mondopoint = CM
Place a sheet of paper on the floor and against a wall
Make sure you are wearing the same socks that you would normally wear with this type of shoe
Wearing these socks, stand on the sheet of paper with your foot perpendicular to the wall and your heel against the wall.
Then use a pen to draw a line just in front of your big toe. Repeat for both feet and take the longer distance to determine your size.
Using a ruler, measure the distance between the wall and the line you drew to find your size.
| ORDER SIZE | UK | US M | EUR |
| --- | --- | --- | --- |
| 22 | 2,5 | 3,5M | 34,5 |
| 22,5 | 3 | 4M | 35,5 |
| 23 | 4 | 5M | 36,5 |
| 23,5 | 4,5 | 5,5M | 37 |
| 24 | 5 | 6M | 38 |
| 24,5 | 5,5 | 6,5M | 38,5 |
| 25 | 6 | 7M | 39 |
| 25,5 | 6,5 | 7,5M | 40 |
| 26 | 7 | 8M | 40,5 |
| 26,5 | 7,5 | 8,5M | 41,5 |
| 27 | 8 | 9M | 42 |
| 27,5 | 8,5 | 9,5M | 42,5 |
| 28 | 9 | 10M | 43 |
| 28,5 | 9,5 | 10,5M | 43,5 |
| 29 | 10 | 11M | 44 |
| 29,5 | 10,5 | 11,5M | 44,5 |
| 30 | 11 | 12M | 45,5 |
| 30,5 | 11,5 | 12,5M | 46 |
| 31 | 12 | 13M | 46,5 |
| 31,5 | 12,5 | 13,5M | 47 |