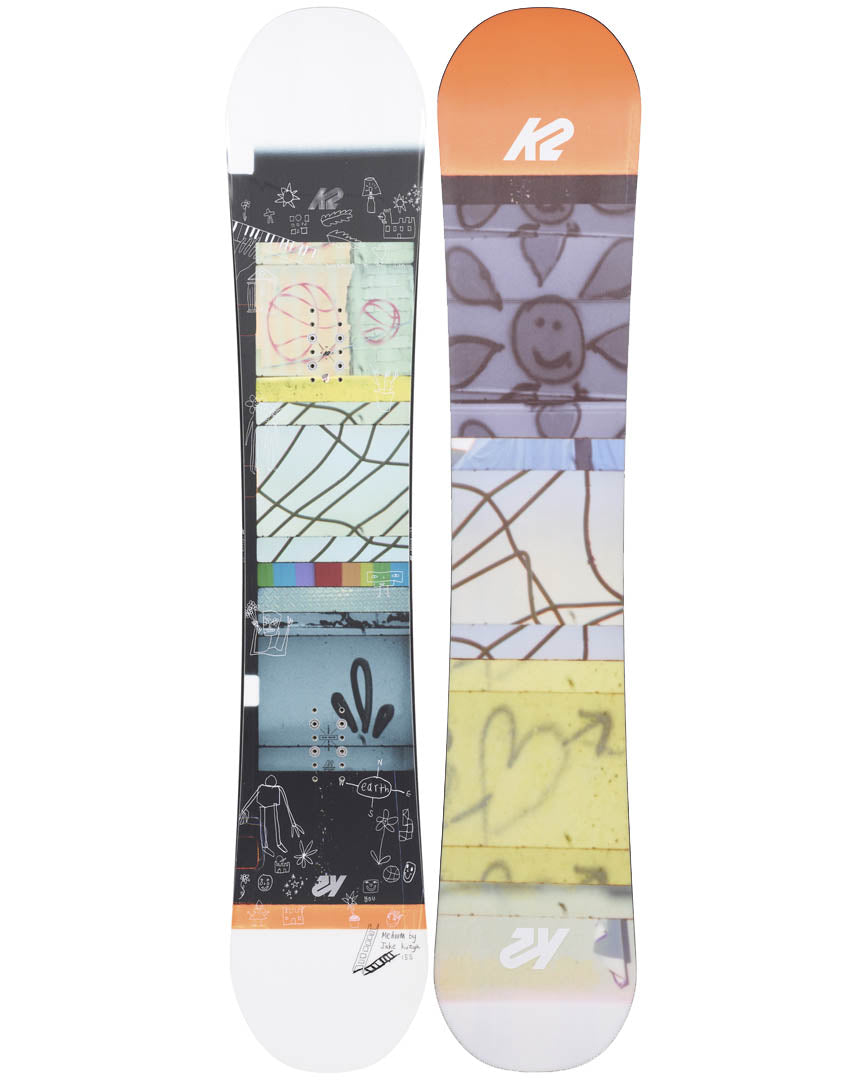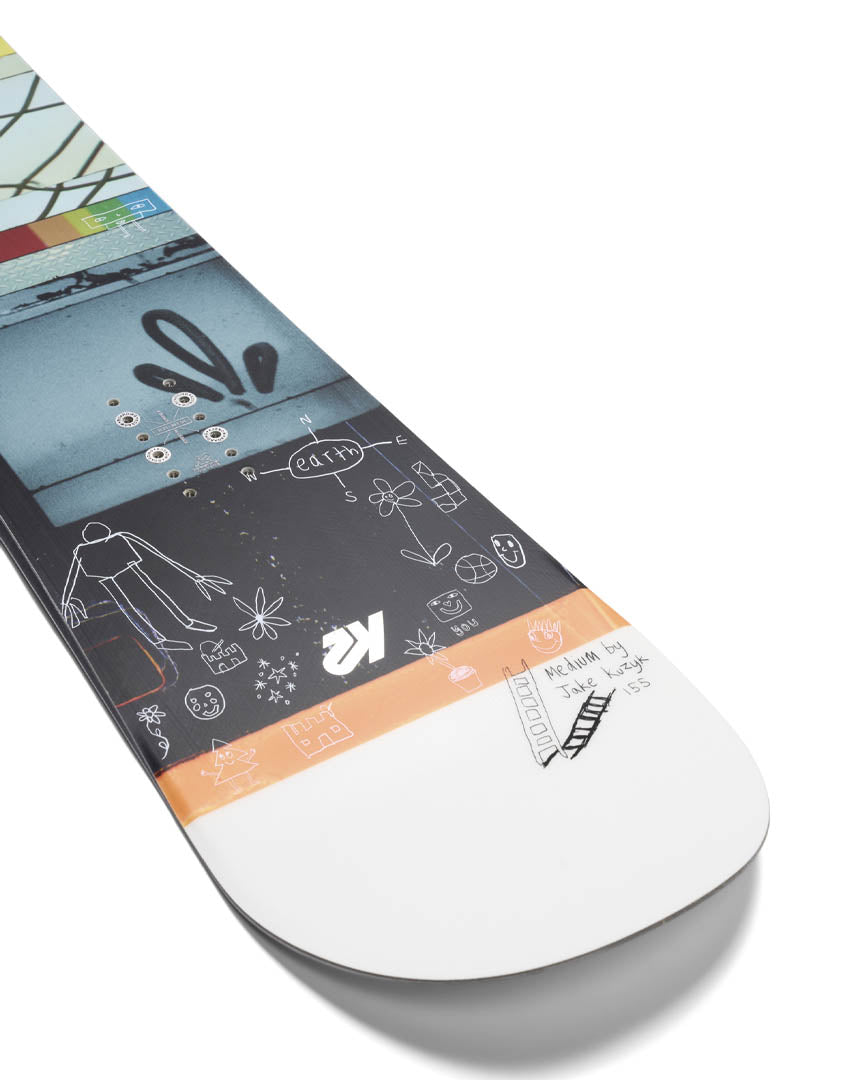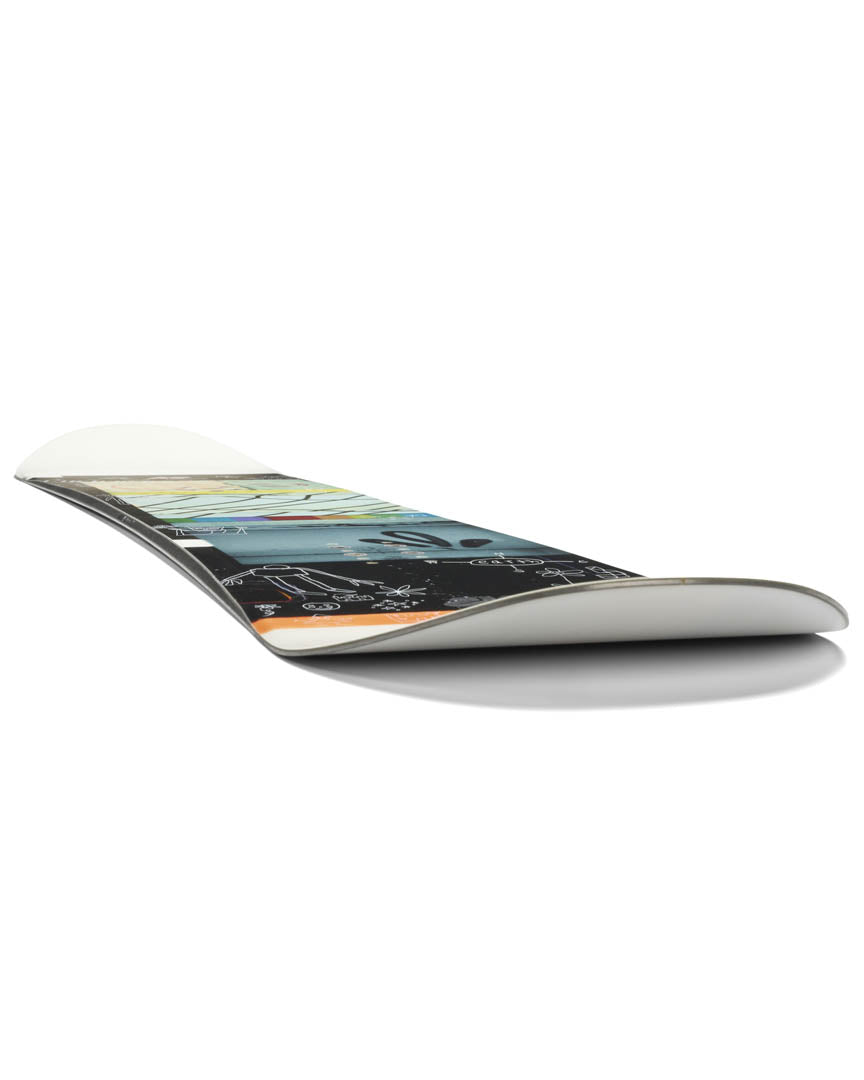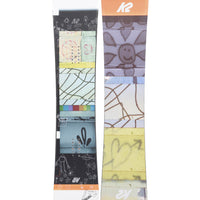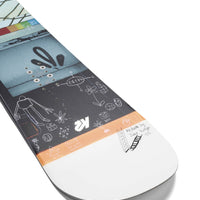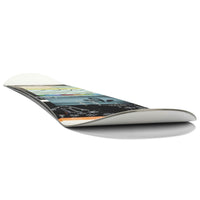 Men Snowboard
THE MEDIUM
This is the Medium Snowboard by K2.
Developed by and for K2 Snowboarding Pro Jake Kuzyk, the K2 Medium snowboard is a modern take on a traditionally shaped cambered twin tip. This all-mountain freestyle workhouse is designed for the advanced to expert level rider who's focused on side hits, riding the terrain park, and taking their bag of tricks into the streets.

Classic round tip and tail shapes are paired with a longer effective edge to help reduce swing weight and allow your 152cm board to feel more like a 155cm, essentially engaging a "cheat mode" that makes the board more maneuverable than ever. Our tri-blend BAP Core is wrapped in triaxial fiberglass and topped with our Carbon DarkWeb™ and Ollie Bar™, adding extra pop for ollies over slow-signs and speeding up edge-to-edge transitions.

On the graphic side, we were lucky enough to work with UK-based contemporary artist (and professional skateboarder) Nick Jensen. Using plaster, a mold of Jake's body was created piece by piece, and then assembled vertically to create a statue. Nick shipped us a large-scale painting from London to Vancouver, British Columbia (where Jake calls home), and we photographed the statue in front of the painting for the Medium's base, and a separate portion of the painting was shot for the graphic on the topsheet. 

The end result is an absolute ripper of a freestyle snowboard that with a unique aesthetic for mobbing park, street, or ANY terrain the resort has to offer.
SIZE: 149
,

152

,

154W

,

155

,

157

,

158W

,

159

,

160W
SHAPE NOTES
Traditional Shape
ADDITIVE
Ollie Bar™,Carbon DarkWeb™
SNOWBOARDS CATEGORY
Freestyle
DIMENSIONS
29.2 - 24.7 - 29.2mm @ 155cm
BEST FOR:

FLEX:

CONSTRUCTION:

PROFILE:

TERRAIN PERFORMANCE:

TECHNOLOGY
BAP CORE:
We've blended three species of renewable timber to assemble a core that's strong, lightweight, and designed to enhance dampening without the addition of other materials.
TRIAXIAL GLASS:
A glass laminate with diagonal layers that adds torsional stiffness for increased stability and improved edge hold. The fibers three layers of fibers are woven at 45°, 45°, and 0°. This makes for a more responsive ride longitudinally and torsionally.
CARBON DARKWEB:
A carbon fiber lay-up that aids in energy transfer and stability, speeding up edge-to-edge transitions and keeping you in control in times of need.
OLLIE BAR:
Built in place in a pre-loaded cambered shape and placed between the binding inserts, the Ollie Bar™ silences the myth that rocker boards don't have the same pop that cambered snowboards do.
SINTERED 4000 BASE:
Our Sintered 4000 base absorbs wax deep into the material for relentless glide and unrivaled durability.
2 X 4 INSERT BINDING MOUNTING:
2x4 Insert packs allow for secure binding mounting while optimizing stance-width options.
SIZE CHART
Medium Snowboard Size Chart
| SIZE CM | EFF. EDGE CM | TIP/WAIST/TAIL CM | SIDECUT M | STANCE IN | SETBACK IN | WT RANGE LBS | WT RANGE KG |
| --- | --- | --- | --- | --- | --- | --- | --- |
| 149 | 116.76 | 28.7 - 24.4 - 28.67 | 7.7 | 21" | Centered | 110 - 190+ | 50 - 86+ |
| 152 | 119.3 | 28.9 - 24.5 - 28.9 | 7.8 | 21" | Centered | 120 - 190+ | 55 - 86+ |
| 155 | 121.84 | 29.2 - 24.7 - 29.2 | 7.9 | 22" | Centered | 130 - 200+ | 59 - 91+ |
| 157 | 124.38 | 29.9 - 24.9 - 29.6 | 8 | 22" | Centered | 130 - 210+ | 59 - 95+ |
| 159 | 126.92 | 29.9 - 25.1 - 29.9 | 8.1 | 23" | Centered | 150+ | 68+ |
| 154W | 121.84 | 30.4 - 25.9 - 30.4 | 7.9 | 22" | Centered | 140 - 230+ | 63 - 104+ |
| 158W | 124.38 | 30.8 - 26.1 - 30.8 | 8 | 22" | Centered | 150+ | 68+ |
| 160W | 126.96 | 31.1 - 26.3 - 31.1 | 8.1 | 23" | Centered | 160+ | 73+ |