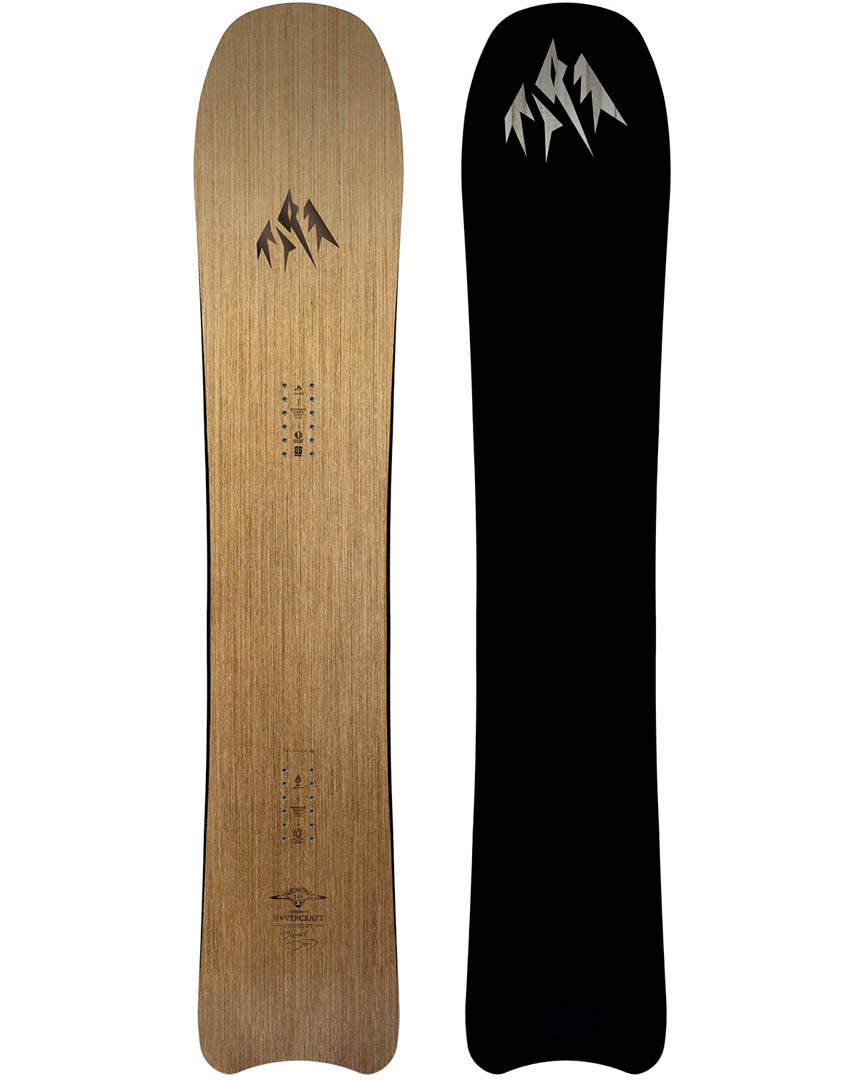 HOVERCRAFT WOMEN
Sale

• Save

Women Snowboard
THE HOVERCRAFT WOMEN
This is the Hovercraft Women Snowboard by Jones.
Directional Rocker
A hybrid rocker/camber flex pattern defined by more tip rocker then tail rocker and camber between the bindings. The rockered tip floats the board's nose and improves maneuverability while the camber underfoot provides edge hold and response. A slightly rockered tail maintains the power and stability of a traditional board but helps keep the tail catch-free initiating turns and landing switch.
"My experience is that most falls in freeriding start from the nose of the board – you either go over the bars in powder, the nose gets caught under a weird crust and tosses you, or you hit a hard tranny at the contact point of the tip and get bucked. Directional Rocker eliminates most of these falls." - Jeremy Jones

Built with the finest tech and materials
100% of our adult models feature high-end materials, construction technologies and sustainable manufacturing process. We accept no compromises in producing the most durable and sustainable snowboarding gear.
---
Base
Sintered 8000 Base
New super durable material made from Ultra High Molecular Weight Polyethylene (UHMW-PE) and carbon. Base is easily repairable, highly wax absorbent and wicked fast.
Wend Natural Wax
Jones boards are ready to shred straight out of the shop and are factory waxed with WEND natural wax.
---
Fiber
Biax fiberglass
A dual-direction, dual-layer, stitched fiberglass laminate that provides a fun, forgiving and snappy ride.
---
Other features
Bio Resin
Bio Resin is a bio-based epoxy made with 27% plant-based carbon instead of petroleum-based carbon. The organic raw materials used to make bio-resin are co-products or waste products of plant-based industrial processes. Bio-resin requires 33% less greenhouse gas emissions to produce than conventional epoxy.
Oversized recycled edges
All Jones boards are made with oversized recycled steel edges for added durability and improved production sustainability.
Recycled ABS Sidewalls
ABS Plastic is one of the necessary evils of snowboard production. We improve the sustainability of our snowboards by using only recycled plastic.
Factory Tuned
All Jones Snowboards are factory de-tuned at the tip and tail so you can go right from the shop to the mountain.
Forever Flex
Forever Flex is a new manufacturing process that helps stabilise the flex and rocker of a board for its lifetime.
---
Topsheet
Engineered Wood Veneer
New composite wood veneer topsheets. Wood veneer topsheets dampen ride and absorb board chatter.
---
Woodcore
Classic Core
Full wood premium poplar core than offers fun pop, even flex and solid durability.