Unisex Ski Bindings
KINGPIN 10- BLACK/RED
Sale

• Save
See price in cart
THE KINGPIN 10
This is the Kingpin 10 Ski Bindings by Marker. Color is Black/Red.
New for the 2022/23 season!
The Kingpin sets the benchmark in downhill-oriented performance pin bindings. Its alpine heel delivers outstanding power transmission and ski control and minimises the likelihood of a false release.
The legendary Kingpin combines the lightweight ISI pin toe piece with an alpine heel piece including 0°/7°/13° climbing aid. This makes it very easy to walk on any terrain and ensures great descents with outstanding performance and top-level release functionality. The binding is therefore perfect for ambitious backcountry and freeride touring enthusiasts. A very stiff, carbon-reinforced front with an ISI toe piece makes the binding easier to step into, as a wide footprint with integrated stop automatically positions and aligns your boot. Kinematically optimised pin levers then allow the pins to snap shut with just a gentle push. The wide hole pattern and XXL power transmitters deliver the ultimate in direct power transmission for the utmost control and fun on the descent.
SPECIFICATIONS
BRAKE WIDTH
75-100 mm

 

,
 

100-125 mm
DIN/ISO RANGE
DIN 5.0 - 10.0
RECOMMENDED SKIER'S WEIGHT
100-230lbs
TECHNOLOGY
ANTI ICE PADS:
Anti Ice Pads in the base of toe and heel (if no brake is installed) to prevent icing in critical areas
KINGPIN HEEL: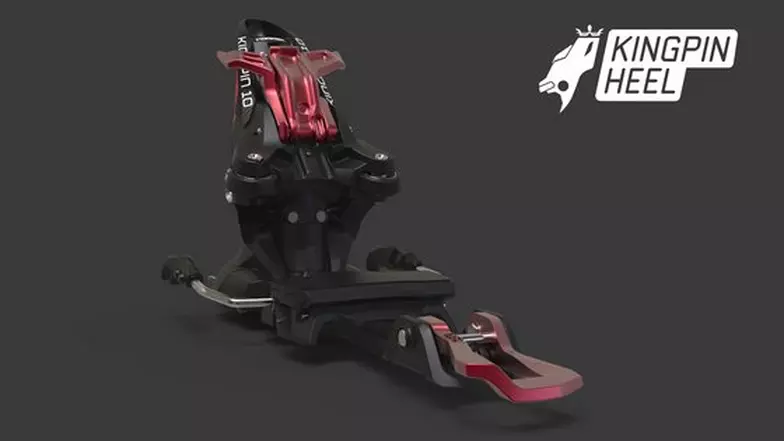 The revolutionary heel construction for the Pin Technology bindings features wide sole contact points to deliver the kind of direct, lossless power transfer more frequently seen in alpine bindings. The KingPin heel is also many times safer than traditional Pin Technology bindings.
VERTICAL & LATERAL ADJUSTABLE RELEASE FUNCTION:
Vertical and lateral individually adjustable release in the heel for improved release functionality.
CLIMBING AIDS KINGPIN:
The climbing aid offers two positions with 7° and 13° which can easily be accessed with the ski pole, even in an unstable standing position. Integrated elastomer paddings dampen the impact reducing the irritating traditional "clack" and allow more comfortable hiking.
CRAMPON KINGPIN/ALPINIST:
Easy to install crampons for KINGPIN and Alpinist available in the sizes 80mm, 90mm, 105mm, 120mm