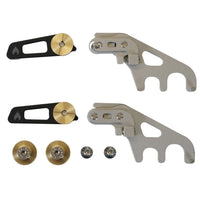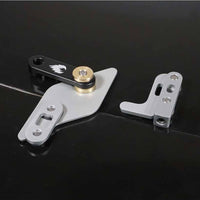 CROSSBAR CLIPS- BLACK/METAL
Sale

• Save

Splitboard Accessory
This item is sold exclusively online and is processed on weekdays only. If you choose to Pickup in-store, please wait to receive your Order Ready email confirmation before visiting.
THE CROSSBAR CLIPS This is the Crossbar Clips Splitboard Accessory by Spark R&D. Color is Black/Metal.


You want your splitboard to ride more like a solid board. We get it; so do we.
Our clever design features a one-piece crossbar that extends from one set of bolts to the other for the stiffest possible connection between the board halves. The cam lever clamps the board together taking gaps out of the board seam. The crossbar and lever rotate out of the way leaving nothing hanging over the edges to snag while you're touring or getting rad split skiing. Clamping tension is easily fine-tuned by turning a set screw, compensating for any wear or board variability. Spark Crossbar Clips are made from lightweight aluminum in an elegant low profile design, with only two moving parts. As a bonus feature, they can be entirely set up with the M3 hex bit on your Spark tool.
Includes: 2 x 'L' Alignment brackets, 2 x Crossbars, 4 x shorter screws for thin (i.e. carbon or kids) splitboards
Weight: 2.9oz/pr (82g)
COMPATIBILITY
Compatible with all splitboards with the standard Voile clip hole pattern with holes drilled through the board.
Crossbar Clips are not compatible with boards that have clip/hook mounting inserts i.e. Jones splits with the boltless bridge (Storm Chaser, Solutions and Ultracraft 17/18 onward) and Nitro Doppelganger, Nomad and Volta from mid 2015 onward.
Not compatible with three piece splitboards.
INSTALLATION VIDEO