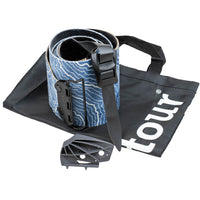 HYBRID MIX 115- OS
Sale

• Save

Kid Ski Skins
THE HYBRID MIX 115 This is the Hybrid Mix 115 Ski Skins by Contour. Color is Os.


The mixed mohair plush ensures maximum durability and good glide performance, and the hybrid adhesive technology means they are super easy to use.
It's the little details that make the difference:
Quick and easy customization: All hybrid trimmable skins feature our easytrim fit system for simple, easy customization using the hybrid cutter that is included with each pair of skins.
The tail clip sits flush even on rounded ski tails. For tails that are thicker than 5 mm, we recommend using the Tail Clip Wide.
Trimming set includes offset cutter, cleaning wipes and stuff sack with microfibre cloth to clean and dry ski bases before applying the skins.
Hybrid is the first ever twin layer adhesive technology for climbing skins. The upper layer sticks the skin firmly to the ski even at low temperatures. It is easy to remove and does not leave any residue on the ski base. The lower layer binds the upper layer of adhesive to the skin backing.
The result is a unique combination of the best qualities of hot melt skins and 'glueless' skins:
Minimal effort required to separate adhesive sides from each other
Effortless removal from the ski
No more re-gluing needed; simply wash the adhesive layer to restore tackiness
Excellent ski base adhesion on multiple ascents
Excellent tack even at very low temperatures
It is important to check the adhesive layer regularly and clean it if necessary. Dust, dirt and ski wax residue do affect the adhesive performance and require the hybrid adhesive to be cleaned.