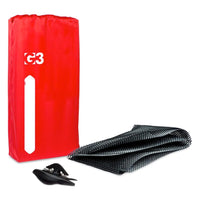 MINIMIST 2 UNIVERSAL
Sale

• Save

Ski Skins
THE MINIMIST 2 UNIVERSAL
This is the Minimist 2 Universal Ski Skins by G3.
UNCOMPROMISED PERFORMANCE AT UNRIVALED WEIGHT
Building on the strength of the classic ALPINIST, the MINIMIST UNIVERSAL is the lightest, most packable fully-featured nylon skin in the world with unparalleled versatility, durability, and usability.
The MINIMIST skins achieve an ultralight feel by using high performance textiles from other demanding sports applications as a backbone.  This results in climbing skins that exceed the highest expectations for features and performance.  Every MINIMIST skin is up to 30% lighter than anything else in its performance class.
The MINIMIST skins pack small enough to fit into your jacket pocket.  The low-bulk materials matched with the minimalist tip and tail system create a tightly packed roll that doesn't require any extra room in your pack.
A carbon fibre insert at the tip of each MINIMIST skin creates a directionally rigid platform that prevents snow creep and extends your time in the mountains.
G3's low profile, elongated tail strap makes transitions fast and easy. The refined camming clip stays positioned on the ski, reduces wear and allows for easy adjustments. 
Removable rip strip reduces skin-to-skin adhesion, making it easier to pull apart skins. If your glue gets contaminated on an epic traverse, you can remove the strip for extra adhesion.




Up to 30% lighter than anything else in its performance class
Low bulk materials pack small enough to fit into your jacket pocket
Carbon insert reduces snow creep

 

Improved tail straps. Sizing holes added to improve user experience. Eliminates slippage thanks to mechanical design
Updated non-toxic adhesive lets you do more laps and cover more terrain
PFC-free waterproofing treatment that exceeds environmental standards

 

Removable rip strip

 

Trim Tool & Skin Savers included
Recycled & recyclable storage bag & box

 

Proudly designed, tested and manufactured in BC, Canada
TECH SPECS
| | | | | |
| --- | --- | --- | --- | --- |
| Lengths: | 150 - 166cm | 161 - 177cm | 172 - 188cm | 183 - 199cm |
| Size: | X Short | Short | Medium | Long |
| Weight (kg): | 197g - 251g | 210g - 271g | 223g - 295g | 246g - 303g |
| Weight (lb): | 6.9oz - 8.9oz | 7.4oz - 9.6oz | 7.9oz - 10.4oz | 8.7oz - 10.7oz |
| Width: | 100mm | 115mm | 130mm | 145mm |